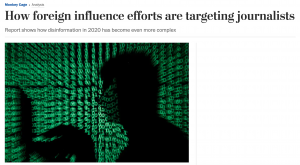 Director Programs and Research, Dr. Kelly McFarland, and Publications Editor, Alistair Somerville, have been sharing the findings of ISD's new working group report, The New Weapon of Choice: Technology and Information Operations Today, in national media outlets.
Last Thursday, they published an article in The Washington Post's political analysis section The Monkey Cage, looking at a recent development in foreign influence operations: the targeting of reputable journalists in an attempt to drive polarization and distrust in democratic societies. They looked at the latest attempts by Russian actors and others to blur the lines between foreign and domestic in the realm of information operations. Building on their malign interference since before the 2016 elections, Russian actors like the Internet Research Agency have begun to target U.S.-based and other journalists to launder false or misleading information.
Our report found that other actors are operating in this space too. In a new piece for Responsible Statecraft, Kelly McFarland focused on disinformation campaigns stemming from U.S. allies in the Gulf. His account further complicates the picture of where disinformation efforts originate: they do not just come from traditional adversaries like Russia and China, but also some U.S. allies and partners. The cultivation of a mixture of fake and real journalistic personas is among the latest tactical developments in malign influence operations.
Read more about ISD's recent publications in our newsletter on Medium, This month in diplomacy.