A need to tell the untold stories of the women shaping modern American diplomacy led the journalist and author Jennifer Koons to launch her interview series on Substack, "Our Women in the World." The newsletter brings conversations with female Foreign Service Officers directly to readers' inboxes, highlighting their efforts to make a positive difference in the world of diplomacy, and the ways in which global events have shaped their lives and careers as women diplomats.
The interviews provide candid insights into life in the Foreign Service. Numerous interviewees are current or former ISD affiliates, or have featured in ISD's Diverse Diplomacy Leaders Speaker Series.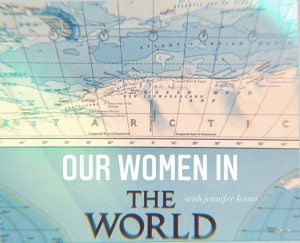 Jennifer has made the following conversations with ISD affiliates available to all readers at no charge:
In Conversation: Caroline Savage, ISD Non-resident Fellow, and founder of the Diverse Diplomacy Leaders Speaker Series and current U.S. Consul General in Almaty, Kazakhstan
In Conversation: Katharine Nanavatty, former ISD Rusk Fellow
Conversations with Non-resident Fellow Heera Kamboj and former student research fellow MJ Crawford, are available to anyone who registers for a free subscription to the newsletter. More interviews, as well as Jennifer Koons' forthcoming book, The Stateswomen of Afghanistan, will be published in the coming months.
The full library of conversations, including with ISD case study author Ambassador (ret.) Kathleen Doherty and director of the Georgetown Institute for Women, Peace and Security Melanne Verveer, are available to paid subscribers. You can register for a subscription by heading to Jennifer's Substack page.
Watch "Our Women in the World" featured interview Caroline Savage interview Ambassador Linda Thomas-Greenfield, now U.S. Ambassador and Permanent Representative to the United Nations, for ISD's Diverse Diplomacy Leaders Speaker Series:
Explore more videos in ISD's Diverse Diplomacy Leaders Speaker Series.