Join the Institute for the Study of Diplomacy for a conversation with Ambassador (ret.) Marie Yovanovitch. Ambassador (ret.) Yovanovitch will share her insights on diversity at State, and offer advice for a successful career in foreign policy.
The Diverse Diplomacy Leaders Speaker Series connects current and former career Foreign and Civil Service Officers with those considering or entering careers in foreign policy. This event is brought to you as part of an Una Chapman Cox Foundation project on American Diplomacy and the Foreign Service.
Learn more about Diverse Diplomacy at diversediplomacy.com.
Please register for the Webinar here.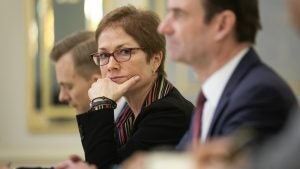 Marie Yovanovitch has previously served as U.S. Ambassador to Ukraine (2016-2019), the Republic of Armenia (2008-2011), and the Kyrgyz Republic (2005-2008). From 2012-2013, Ambassador Yovanovitch was the Principal Deputy Assistant Secretary of State for the Bureau of European and Eurasian Affairs, where she was responsible for policy on European and global security issues. She also served as the Senior Advisor to the Under Secretary of State for Political Affairs from 2004-2005.
Ambassador Yovanovitch retired from the State Department in 2020 as a Career Minister. She is the author of a New York Times best-selling memoir, Lessons from the Edge, and is also a Senior Fellow at the Carnegie Endowment for International Peace and a non-Resident Fellow at the Institute for the Study of Diplomacy, Georgetown University. She has received multiple awards, including the Presidential Distinguished Service Award (twice), the Secretary's Diplomacy for Freedom Award, the Trainor Award for Excellence in the Conduct of Diplomacy, and the PEN/Benenson Courage Award.
A graduate of Princeton University with a master's degree from the National Defense University, Ambassador Yovanovitch received numerous Presidential and State Department awards, including the Secretary's Diplomacy in Human Rights Award.