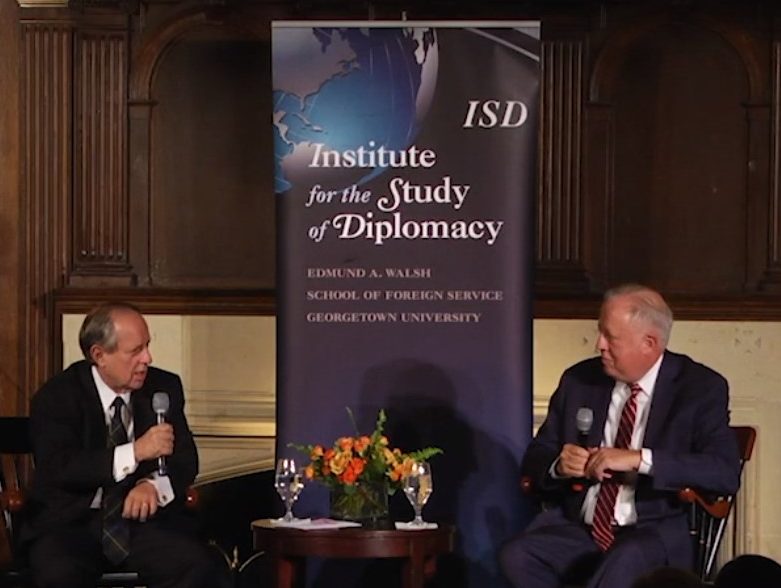 Category:

Jit Trainor Award
Title:

Amb. Thomas A. Shannon
Date Published:
February 21, 2019
Why the Americas Matter: How Relations with Our Neighbors Will Shape the Future
On February 21, 2019, the Institute for the Study of Diplomacy awarded Ambassador Thomas A. Shannon the 35th annual J. Raymond "Jit" Trainor Award for Trainor Award for Distinction in the Conduct of Diplomacy. Fellow diplomats, ISD board members, Georgetown University faculty, and students from the Center for Latin American Studies and Certificate in Diplomatic Studies programs gathered at Georgetown University for a dinner to honor Ambassador Shannon and celebrate his nearly 35 years in the Foreign Service. He served as Under Secretary of State for Political Affairs, the third highest ranking position at the State Department.
Ambassador Shannon's talk, entitled "Why the Americas Matter: How Relations with our Neighbors will Shape the Future," shared his perspectives on the past, present, and future of Western Hemisphere affairs. He argued that "we are at a moment of eclipse and rebirth in American foreign policy as consequential as that which happened after World War II" and that "our hemisphere has embarked on the next great phase of political, economic, and social development."
Shannon discussed global drivers of change, citing a number of transformative trends outlined in recent National Intelligence Council Global Trends studies. His reflections incorporated insights from his role as a "dusty roads diplomat," when he worked in countries in transition and witnessed the impact of American power on democratization as it unfolded throughout Latin America.
Shannon emphasized the instrumental US role in facilitating peace, shared democratic values, and trade agreements, and called for US foreign policy to prioritize efforts to secure the Western Hemisphere reserve of democracy, promote its peacefulness and prosperity, and guarantee its institutions against the corrosiveness of self-interest and misplaced nationalism.
The lecture concluded with a moderated Q&A session led by Ambassador Lino Gutiérrez.