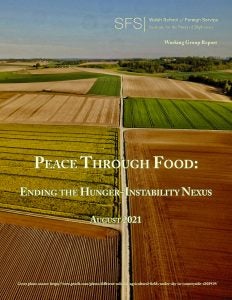 In the latest episode of ISD's Diplomatic Immunity podcast, Director of Programs and Research Kelly McFarland talks to Bibi La Luz Gonzalez of Eat Better Wa'ik—an anti-hunger NGO in Guatemala—and Johanna Mendelson Forman of the Stimson Center, a think tank based in Washington, DC. They discuss food security and hunger in the context of worsening conflict, climate change, and the effects of the pandemic around the world. Johanna participated in ISD's spring 2021 working group on the nexus between food insecurity, instability, and conflict. Bibi is an activist and organizer focused on hunger and human rights. Their insights help listeners understand the links between local efforts and global food systems in the quest for food security.
Featured articles:
Peace Through Food: Ending the Hunger-Instability Nexus, ISD New Global Commons Working Group Report (August 2021)
Event video: Covid, Conflict, and Climate: Food Insecurity Today and the Way Forward (ISD and the Stimson Center, September 14, 2021)
Johanna Mendelson Forman, "Can food build peace? Challenges for life in the Anthropocene," The Diplomatic Pouch, September 13, 2021.
Diplomatic Immunity, a podcast from the Institute for the Study of Diplomacy at Georgetown University, brings you frank and candid conversations with experts on the issues facing diplomats and national security decision-makers around the world.
Listen and subscribe wherever you get your podcasts:
For more follow us on Twitter @GUDiplomacy and on LinkedIn. Send any feedback to diplomacy@georgetown.edu.