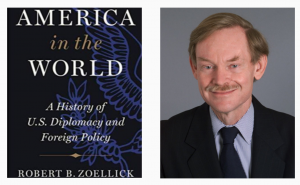 The Institute for the Study of Diplomacy invites you for a webinar discussion with The Hon. Robert B. Zoellick on his new book, America in the World: A History of U.S. Diplomacy and Foreign Policy.
Please join us on Wednesday, September 16, from 4:00 to 5:30 PM, to learn about the long history of American diplomacy, as well as the challenges of U.S. foreign policy both past and present.
Robert B. Zoellick has served as Deputy Secretary, Under Secretary, and Counselor of the State Department; Ambassador and U.S. Trade Representative; Counselor to the Secretary of the Treasury; Deputy Chief of Staff at the White House; and President of the World Bank. His experience spans six U.S. presidencies: during the Cold War, in its closing chapter, and into the first decades of the 21st century. Zoellick is now a Senior Fellow at the Belfer Center for Science and International Affairs at Harvard University's Kennedy School of Government, where he contributes to the Applied History Project.
ISD's director, Ambassador (ret.) Barbara Bodine, will introduce the discussion, followed by a conversation with Ambassador Zoellick, SFS Dean Joel Hellman, and Georgetown history professor John R. McNeill.
Audience Q&A will follow the discussion.
This event is part of ISD's "Distinguished Practitioners" speaker series.
This event will have live captioning, and will also be broadcast on the Institute's YouTube channel.
Accommodation requests related to a disability should be sent to diplomacy@georgetown.edu by Friday, September 11, at 4pm. A good-faith effort will be made to fulfill requests. A captioned version of this presentation will also be made available by September 18 at isd.georgetown.edu.