President-elect Biden's nomination of ISD Board of Advisers member Ambassador Bill Burns to lead the Central Intelligence Agency is a victory for diplomacy and the values of global public service. His appointment comes at a crucial time, when the very ideals of our democracy and non-partisan public service are under threat.
Ambassador Burns, a member of the ISD Board of Advisers since 2016, served this country with distinction across his 33-year career in the Foreign Service, and holds the rank of Career Ambassador, the highest in the Foreign Service. In 2011, he became only the second serving career diplomat to reach the rank of Deputy Secretary of State, and his varied experience at senior levels across multiple regions and in multiple administrations — including ambassadorships in Russia and Jordan — make him ideally suited to lead U.S. intelligence efforts globally at this critical time.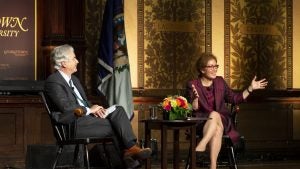 Since his retirement from the Foreign Service in 2014, Ambassador Burns has led the Carnegie Endowment for International Peace, where he has overseen influential research on the importance of a foreign policy that serves the interests of the American middle class, among other topics. As an ISD Board member, Ambassador Burns played an important role in the Trainor Award ceremony for Ambassador Marie Yovanovitch, and in facilitating the Institute's 40th anniversary international conference, "Diplomacy in an Era of Disruption and Discontinuity," which took place at Carnegie.
Burns' 2019 memoir, The Back Channel: A Memoir of American Diplomacy and the Case for its Renewal, which was accompanied by an archive of declassified diplomatic cables, gave a masterful account of his career and the events that shaped the American century. His erudite commentary in The Atlantic, on the diplomatic challenges facing the United States, has provided much needed critical reflection on the Trump administration's foreign policies and presented a path forward for America's role in the world.
ISD Director Ambassador Barbara Bodine praised Burns for his contributions to diplomacy: "Bill Burns will bring decades of experience and extraordinary service to the country to his role as CIA Director. Bill has been deeply engaged in virtually every major U.S. foreign policy issue over his diplomatic career, earned the trust and admiration of his colleagues and the national leadership, and of our friends (and probably even some of our adversaries) abroad."
Ambassador Thomas Pickering, Chair of the ISD Board of Advisers, noted that Ambassador Burns is "a very strong choice of someone who has managed a large team working in national security and with a keen insight into the needs of intelligence consumers."
Ambassador Burns is the third member of the ISD community that President-elect Biden and Vice President-elect Harris have chosen for senior national security positions in the new administration. Ambassador Linda Thomas-Greenfield, ISD Distinguished Resident Fellow in African Studies and former Assistant Secretary of State for African Affairs, is the nominee to be U.S. Ambassador to the United Nations and a member of the cabinet. Ambassador Nancy McEldowney, an ISD non-resident fellow who previously directed Georgetown's MSFS program, will serve as National Security Advisor to the Vice President.
ISD is extremely proud that such distinguished career diplomats will serve the country once again, and that advocates for diplomacy will have a strong voice across the Biden administration. They each epitomize the Georgetown University ethos of "service to others."
Cover image: Burns addresses the media during a visit to Tokyo, Japan, in 2014. Ambassador Burns served as deputy secretary of state during the Obama administration. (Image: State Department/Flickr)