In August, the Institute for the Study of Diplomacy welcomed the inaugural cohort of McHenry Global Public Service Fellows to master's programs across the School of Foreign Service. ISD's newest fellowship program selects exceptionally qualified graduate students from all U.S. and international communities who are committed to careers in transformational global public service leadership.
Fellows receive professional skills development classes that enhance their intellectual capacity for strategic and analytic thought, policy writing, impactful oral communications, partnership building, and holistic, innovative approaches across disciplines to conceptualizing and resolving global public service challenges. The fellowship also includes a scholarship covering full tuition and mandatory fees.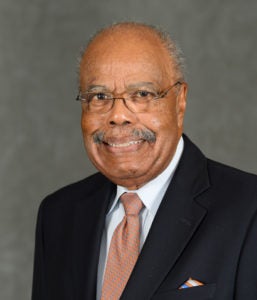 Ambassador Donald F. McHenry (PHD'64, H'81), a member of the ISD Board of Advisers, and formerly U.S. Permanent Representative to the United Nations from 1979 to 1981, provided the vision for the fellowship and remained deeply engaged as the program came into focus last year. At an event earlier this semester, Ambassador McHenry welcomed the fellows and spoke with them about the Fellowship's mission to develop new generations of global leaders equipped with the skills required to tackle the world's most pressing challenges.
"Your leadership will build inspired partnerships to transform conflicts into cooperation for sustained stability, good responsive governance, improved health, education and more equal economic opportunities," he said. 
For the five new fellows, starting graduate school virtually during a pandemic has underscored the importance of understanding and tackling international affairs in innovative and creative ways. Despite the unusual start to their graduate careers, they are nevertheless determined to make the most of their time on the Hilltop and to contribute their talents to Ambassador McHenry's legacy of global public service.
Building on a Public Service Career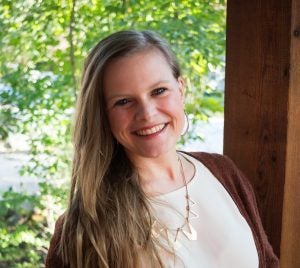 Through the Master of Global Human Development program, Emily Crane Linn (GHD'22) is excited to gain a global perspective after working with underserved populations at home in the United States. 
Prior to Georgetown, she founded and directed Canopy of Northwest Arkansas, a refugee resettlement agency based in Fayetteville, AR. The organization provides employment and integration support to refugees in Arkansas and aims to support newcomers with all aspects of the transition to life in the United States. 
Reflecting on this experience, Crane Linn says, "I come to the program with some experience in leadership and management, as well as program design, monitoring and evaluation. However, I learned all those things on the job, through trial and (lots of) error. The longer I worked, the more I knew [what] I didn't know. I look forward to filling in my gaps in knowledge and building on my skills through my time in the GHD program and through the McHenry Fellowship." 
For all the fellows, the high touch programming and the dedicated mentorship opportunities are a key attraction of the McHenry program. "I'm most excited about the opportunity to connect closely with the faculty and senior fellows at the Institute for the Study of Diplomacy, as well as the experts teaching our skills workshop series. These are some of the most brilliant minds in global public service," Crane Linn says. 
Learning From Top Practitioners
Genesis Torres-Alcantara (CLAS'22) offers similar reflections. "I'm excited to work with experienced and accomplished practitioners who are already doing the work of transformational global public service and to learn from their experiences and to gain knowledge from the challenges that they've faced," she enthuses.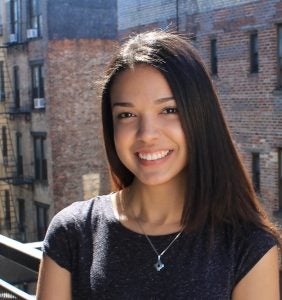 Like Crane Linn, Torres-Alcantara has demonstrated a commitment to serving marginalized communities at home and abroad. Hailing from New York City, Torres-Alcantara returned to her middle school in the Lower East Side of Manhattan as an AmeriCorps volunteer. 
"These experiences pushed me to think critically about what is needed to break cycles of poverty and inequality in marginalized communities not just nationally but globally," she says. 
Torres-Alcantara studied in Peru and Argentina during her undergraduate degree. "While in Peru, I dedicated my free time to working with grassroots development projects supporting indigenous communities from both the Andes and the Amazon, with a special focus on young girls," she recalls. 
She plans to focus her studies in the Master of Arts in Latin American Studies program on poverty, access to education and gender inequality in Latin America, while Crane Linn hopes to explore opportunities through Georgetown's Institute for the Study of International Migration (ISIM). 
"I'm planning to pursue ISIM's Certificate in Refugees and Humanitarian Emergencies, which I'm hoping will give me a broader, more global understanding of the refugee crisis and strategies to mitigate it," Crane Linn says. "I'm also hoping to take some classes on conflict and post-conflict states, so that I can better understand the conditions to lead to forced displacement in the first place."
Building a Georgetown Network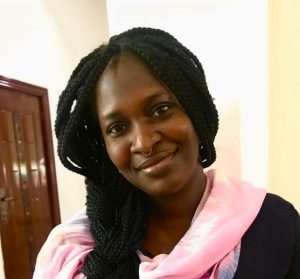 For Fareeda Abdulkareem (GHD'22), studying at SFS as an international student is allowing her to connect to a new community. "The generosity of time and knowledge that the McHenry coordinators continue to give is incredible," she says. "I'm so excited by the opportunity to be mentored by outstanding public servants from other parts of the world."
"The fellowship is in perfect alignment with my professional motives," she explains. A freelance writer who has been published in Current Affairs, Quartz, Harvard's Transitions, Africa is a Country and The Africa Report, Abdulkareem is focused on the intersection between cultural and economic development. 
Previously, she worked for Nigeria's Ministry of Education, fundraising to provide training in employment skills for university students. Before that, she worked as an international coordinator for a development NGO in Uganda. After GHD, she hopes to specialize in development financing for cultural activities to boost economic growth and expand the soft power of Nigeria and, by extension, the African continent.
"I intend to use my platform as a writer and McHenry Fellow to spotlight Nigeria's rapid emergence as the next global cultural hotspot," she says. 
Culture, Abdulkareem believes, could be lucrative for her home country and help to build a stronger economy that will benefit Nigerian citizens. She stresses, "Culture is a strong force that can reform ideologies, and bring in extremely tidy profits too!"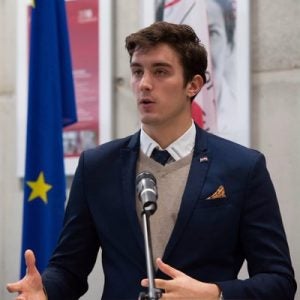 Abdulkareem is one of three international students among the cohort.
Luka Ignac (MAGES'22) comes from Croatia, and begins his master's degree in German and European Studies with a specific goal in mind. "I hope to take advantage of all of Georgetown's opportunities and pursue a career with the EU Delegation to the U.S., ensuring close coordination and cooperation across the transatlantic space," he says. 
Ignac's ambition to become a leader in transatlantic affairs began as an undergraduate. "I was always trying to find opportunities outside of the traditional classroom," he recalls. Ignac sought out internships — including one at the Embassy of Croatia in the United States — that would enable him to see firsthand the work that goes into maintaining important bonds between the United States and Europe.
"The emphasis the McHenry Fellowship puts on transformational public service completely amazed me," he says. "As someone who aspires to be a public servant, I know that, with the help of McHenry Fellowship, I will be able further my strategic intellectual skills, which will equip me to approach and solve problems in innovative ways."
"The Next Logical Step"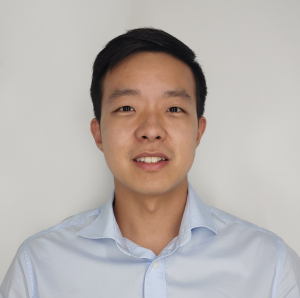 Global security issues also motivated Heemin Yang's (MSFS'22) decision to apply for the fellowship. Yang came to Georgetown from South Korea with first-hand experience of conflict and security issues. Yang served in the 31st Airborne Infantry Battalion in the Republic of Korea Marine Corps where he monitored the inter-Korean border, before leading a rescue team in Southeast Asia as a field manager of an international NGO, helping North Korean defectors reach freedom.
Drawing on his time on the front lines, Yang plans to develop his academic understanding of Korean Peninsula issues through MSFS' Global Politics and Security concentration. "Effective policies are informed by practical experience gained from fieldwork as well as insight attained by academic rigor," Yang says. "I hope to bolster my academic knowledge so that I can be better equipped in approaching the North Korea problem — a complex issue that will require an equally multifaceted and creative approach." 
His interests in international politics go further, and he hopes to draw on his experience living in Cairo, Athens, Istanbul, Tel-Aviv and Sydney, as well as South Korea. "My international background helped me to appreciate the value of diversity of perspectives and the role of international relations," he says. "Studying at Georgetown seemed like the next logical step in studying international politics."
Like their peers, Ignac and Yang cannot wait to learn from practitioner mentors and their counterparts in the McHenry Fellowship program. "What excites me the most are the interactions I'll have with senior-level practitioners and my extraordinary fellows," Ignac says. "I look forward to learning from their key advice on how to successfully tackle new global challenges."
[Read more about the McHenry Fellowship on the School of Foreign Service website]
You can support the next generation of transformational public servants by giving to the McHenry Global Public Service Fellowship program. Gifts can be made to the McHenry Program Fund using this form. Please contact Development Officer, Mary Kertz Jones at mj727@georgetown.edu if you have any questions and/or should you wish to explore a major gift or estate gift. Thank you for your support!