Alumni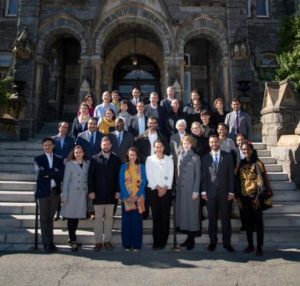 The GLS Alumni network consists of more than 900 alumni from more than 100 countries. We encourage program alumni to connect with the GLS Alumni LinkedIn group.
Past participant lists and photo galleries can be found below.
34th Reunion
In recognition of the 34th year of the Georgetown Leadership Seminar, the Institute for the Study of Diplomacy, with the generous support of GLS alumnus George Marcus, hosted a GLS Alumni Reunion in Washington, D.C. from Friday October 30th through Sunday November 1, 2015.  Dean Emeritus Peter Krogh, who served as Dean of the Edmund A. Walsh School of Foreign Service (1970-1995) and founding co-director of the Georgetown Leadership Seminar, was the honorary chairman of the Reunion.
More than fifty GLS alumni participated, reconnected with colleagues and with Georgetown, and, in GLS seminar style, engaged on critical global issues with leading academic and policy experts, including GLS alums. The alums also met our newest cohort of alumni – the GLS 2015 participants – who had just completed their own week at Georgetown. In recognition of the School of Foreign Services' incoming Dean, Joel Hellman, the Reunion Weekend focused on the critical nexus between the global economy and human security, how these drive the growing problem of fragile and conflicted states and the role of the private and public sector to mitigate these problems.  H.E. Nasser Judeh – the Deputy Prime Minister and Minister of Foreign Affairs and Expatriates, Hashemite Kingdom of Jordan and a GLS alumnus (2004) – was the keynote speaker at the Reunion's Gala Dinner.
Alumni Support
With thanks to the following alumni of the Georgetown Leadership Seminar (GLS) who are among those who have contributed to scholarships to enable others to attend.
Renato Amorim (GLS 2006)
Soili Mäkeläinen-Buhanist (GLS 2013)
Nasir Ali Shah Bukhari (GLS 2005)
Roberto Danino (GLS 1983)
Hisham El Khazindar (GLS 2004)
Anne Lamilla (2007)
Cheryl Long (GLS 1993)
Mahmoud Moheildin (GLS 2003)
Mark Nichols (GLS 2001)
Antonio Celso Pugliese (GLS 2014)
Loay EL Shawarby (GLS 2003)
Antti Vänskä (GLS 2015)
Anne Vasara (2011)
Felipe Vergara (GLS 2015)