---
2019 – 2020
Strategic Re-Engagement:
Advancing U.S. Leadership in Multilateral Diplomacy
75 years after the creation of the United Nations, the United States finds itself in a pivotal moment. At the beginning of a new decade, the world faces myriad challenges which require U.S. leadership and an immediate, coordinated response.
The last four years of retrenchment have signaled a return to the pernicious isolationism of America's past. Now is the time for re-engagement. Without it, the United States' strategic competitors — most notably China — will continue to fill the leadership void. Over the past decade, China has become increasingly active on the multilateral stage, from its leadership of UN agencies to its selective participation in the global economic order through its creation of parallel economic organizations. The following recommendations seek to provide a path forward for U.S. leadership across the spectrum of multilateral and regional organizations. This will ensure that the values of liberal democracy that have underpinned the post-war, rules-based order continue to shape the work of global institutions.
From the Ground Up:
Economic & Social Resilience in Post-Conflict Yemen
Since the collapse of the National Dialogue Conference in January 2014, warring factions dragged the Republic of Yemen into a devastating civil war, further complicated by regional rivalries and international actors. An estimated 88,000 combatants and 12,000 civilians died as a direct result of war violence and the ensuing devastation created what many term as the "world's worst humanitarian crisis."2 More than 2 million Yemenis are internally displaced and over half of the population is experiencing famine. Humanitarian organizations estimate that 3.3 million children experience malnutrition and 84,000 died.3 As of 2017, gender-based violence increased by 63 percent, 19.4 million people lacked access to clean water leading to the worst recorded cholera outbreak in history, and 70 percent of the workforce experienced job loss.4,5 Hauntingly, according to the UN's Resident Humanitarian Coordinator, Lise Grande, 80 percent of Yemenis need humanitarian aid, with 50 percent of all Yemenis in acute need of assistance. While the situation in Yemen is dire, it is important for stakeholders to remember Yemen is more than the sum of its devastating statistics.
Forging Unity:
Building Toward a Stronger Maghreb
Despite its immense potential, North Africa suffers from significant national and transnational issues that threaten the region's long-term stability and prosperity. These transnational challenges require transnational solutions, but past attempts to integrate the region have accomplished little. The United States' fragmented policy approach to North Africa has failed to improve the situation and has often exacerbated it. While North Africa does not rank first in U.S. policy priorities, the United States has a vested interest in helping create a North Africa that is stable, prosperous, connected, and integrated with the international community. Achieving this goal will require U.S. leadership and a clear, unified regional strategy that makes maximum use of U.S. resources in concert with those of European and African partners.
2018 – 2019
YEMEN: BUILDING FROM THE BRINK
A ROADMAP FOR RECONSTRUCTING A SHATTERED STATE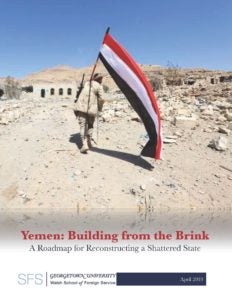 The Issue. Since 2015, Yemen has been gripped by complex, brutal, and overlapping conflicts – each including a variety of domestic and foreign actors with competing agendas – that have crashed Yemen's economy, fractured basic governance structures, and resulted in a catastrophic humanitarian crisis. The United Nations-brokered December 2018 Stockholm Agreement may be the necessary first step toward a comprehensive peace agreement, but it may not be a sufficient basis on which to build Yemen's path back to political and economic viability.
The Importance. Yemen is home to 29 million people, four in five of whom require some form of humanitarian or security assistance. 1 Its strategic location, close to the Persian Gulf, the Bab Al Mandab, and the Horn of Africa, has long drawn in international actors, from the Romans, through the Ottoman Empire, to the British and now the Arab Gulf states. Each of these actors have sought to control the vital sea lanes and trade routes on which Yemen lies. To recover from the humanitarian crisis, to enable Yemenis to capitalize on their country's strategic location, and to reduce the risk of renewed conflict, Yemen and the international community must plan for a post-conflict state.
The Road Ahead. After a conflict-ending agreement is reached, the Yemeni central government will need to re-establish effective governance systems, ensure the delivery of services, and provide security to its citizens. With a focus on those areas, Yemenis and the international community can establish the foundations of a stable and sustainable state.
CREATING A FUTURE: A ROADMAP FOR SOUTH SUDAN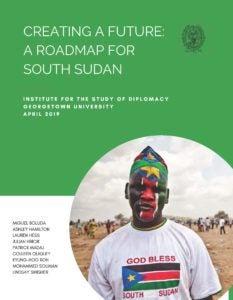 Since 2013, just two years after attaining a hard-fought independence, South Sudan has been immersed in a violent and complex conflict in which thousands have died and over a million people have been displaced. This conflict has resulted in economic, political, and humanitarian tolls on the country and its people. With immense challenges and no viable end to the conflict in sight, South Sudan is already experiencing donor frustration and fatigue as efforts to end the war have failed and key humanitarian programs and initiatives are underfunded. In short, the war in South Sudan must end now. This policy paper examines the complex aspects of the conflict and makes ten recommendations that encompass two critical areas of focus for South Sudan: ending the fighting and sustaining the peace.
South Sudan's turbulent history begins well before the country received internationallyrecognized statehood. After British colonial powers departed Sudan in 1956, southern Sudan experienced social discrimination and economic marginalization that led to a desire for self-determination among southern populations. The result was nearly 40 years of civil war with Arab pitted against African, Muslim against Christian. The eventual break with Sudan in 2011 left South Sudan with limited institutions, weak governance, and a vulnerability to the resulting power struggle between current President Salva Kiir and former first Vice President Riek Machar that has led to divisions along ethnic lines.
ISTANBUL STEPPING STONE CONFERENCE: A COMPREHENSIVE SOLUTION TO THE SYRIAN REFUGEE CRISIS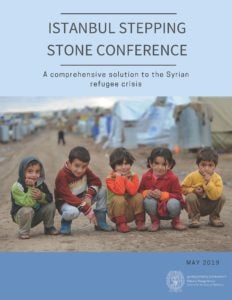 This report proposes a UN-led international conference in Istanbul to provide durable solutions for as many Syrian refugees as possible. The evolution of conditions in Syria creates a window of opportunity for voluntary, safe, and dignified returns. Arab states are beginning to normalize relations with Syria; Russia is promoting returns; ISIS no longer occupies Syrian territory; Iran faces increasing difficulties in its ability to supply oil to the Syrian regime; and the Assad government is looking to solidify its military gains. It is urgent to undertake this effort now because the stress on refugee hosting countries threatens to destabilize the region.  Syrian refugees deserve a pathway towards dignified lives for themselves and their children.
Around three-quarters of Syrian refugees in Egypt, Iraq, Lebanon, and Jordan have stated that they intend to return to Syria one day, and around six percent of them intend to return in the next 12 months, independent of a political solution. While the United 1 Nations High Commissioner for Refugees (UNHCR) outlines a series of comprehensive protection thresholds that must be met to transition from 'Phase 1' to 'Phase 2,' conditions in Syria merit a Phase 1.5 approach. Syria may be witnessing instability for a long period of time. Durable solutions must provide a bridge to support spontaneous returns, build the necessary conditions to enhance protection and sustainability of returnees, and work to improve conditions for refugees outside of Syria and the communities that host them.
PURPOSEFUL MULTILATERAL ENGAGEMENT: PRESERVING U.S. LEADERSHIP IN THE 21ST CENTURY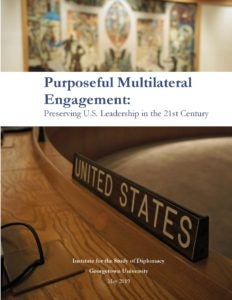 The election of Donald Trump in 2016 reflected a growing American dissatisfaction with a liberal international order many believed had not delivered. Since the end of World War II, the U.S. has been instrumental in establishing and maintaining the rules-based international system and the institutions that govern it. In recent decades, however, perceptions that the United Nations and other multilateral organizations were ineffective and, in some cases, threatened U.S. sovereignty have merged with disenchantment over the economic promises of globalization. This merger propelled a self-described "America First" candidate to the White House.
While many voters were reacting to real demographic and economic trends, notably increased racial diversity and stagnating wages for many segments of the population, the benefits of multilateralism and the risks of disengagement were given short shrift. The incoming administration should address the public's concerns and push for tax and other economic reforms but must also put a spotlight on the value of multilateral institutions to address the critical transnational issues of the 21st century.
2017 – 2018
A VISION FOR SUSTAINABLE PEACE: BUILDING AN INCLUSIVE FUTURE FOR SOUTH SUDAN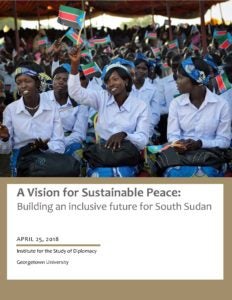 South Sudan, the world's youngest state, is still struggling to establish a stable government that works for its people. Corruption, violence, greed, distrust, and human rights abuses are pervasive and inhibit the country from achieving peace, stability, and prosperity. The government of South Sudan, including President Salva Kiir, is responsible for perpetuating a deadly and destructive civil war, blocking progress by breaking past peace agreements, and starving its people of safety and access to education, water, health, and economic growth.
This report puts forth a new approach to ending the war in South Sudan and setting it up for success. This vision of the future is built on inclusivity, sustainability, and a fresh start with new leadership. The authors propose ten recommendations under the three goals of establishing a vision, expanding the table, and ensuring sustainable peace. Due to the complex nature of the crisis and the number of stakeholders involved in the conflict and peace negotiations, these recommendations are aimed at a wide variety of actors: the government of South Sudan, the European Union (EU), the United States, the Intergovernmental Authority on Development (IGAD), the African Union (AU), and the United Nations (UN).
THE UNITED STATES AND IRAN: COOPERATION WHERE POSSIBLE, CONFRONTATION WHEN NECESSARY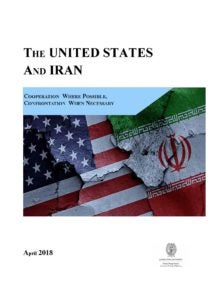 Nearly every issue in the Middle East is affected by U.S. policy towards Iran. These issues include:
1) Middle East stability; 2) the conflicts in Iraq, Syria, and Afghanistan; 3) the eradication of terrorist groups like al-Qaeda, the Islamic State in Iraq and the Levant (ISIL), and Hezbollah; 4) the security of the state of Israel; 5) countering regional proliferation of weapons of mass destruction; 6) the free flow of energy; and 7) the organic evolution of the Iranian government to one more friendly to the United States. Iran has the potential to be either a helpful partner or a serious opponent to U.S. regional interests, making the bilateral relationship critical.
The United States must carefully consider where to cooperate with Iran, as well as where to adapt to or counter Iran's growing regional influence. Failure to plan for Iran's regional ambitions will reduce Washington's strategic options in a region critically vital to U.S. national interests. However, there is major disagreement about Iran's strategic and foreign policy goals, hinging on two contending perspectives. The first views Iran as a revisionist power with regional hegemonic ambitions, while the second argues Iran's actions abroad are primarily defensive in nature. Reality is always more complex, and the truth lies in between these differing interpretations, as will be demonstrated in this report.
A ROADMAP FOR YEMEN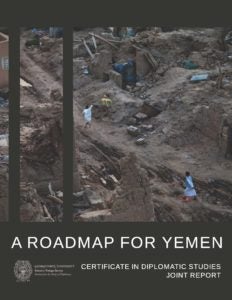 The situation in Yemen – today, right now, to the population of the country – looks like the apocalypse," said the UN OCHA's head of office in January. At present, Yemen faces a humanitarian crisis as a result of intersecting civil wars and a geopolitical chess match waged by the Saudi coalition and Houthi fighters in Yemen's northern regions. While Yemen is deeply fractured, it is not beyond repair.
To move toward a future beyond war will require a long-term vision; policymakers must focus not simply on securing a ceasefire. They need to develop medium and long-term strategies to rebuild. Yemen's mission objective is to become a stable, viable, and unified state that is accountable to its citizens and operates as a good regional neighbor.
This vision for Yemen will require: inclusive peace negotiations, good governance, an effective transitional justice system, critical infrastructure, and attention to macroeconomic stability and job opportunities. The central question for policy makers is: How do we get there?
2016 – 2017
EMERGING FROM THE RUBBLE: REBUILDING A UNIFIED YEMEN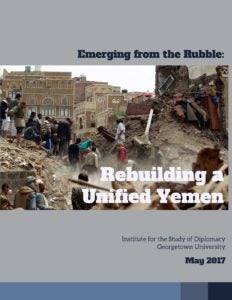 With an emphasis on inclusivity, accountability, and sustainability during the reconstruction process, the Yemeni government and international partners can ensure that new institutions and processes forge a lasting peace and durable bond between the Yemeni state and its people. Through these values, Yemenis can create a new government that lives up to the promise of the original National Dialogue Conference (NDC). The conference has maintained widespread legitimacy, even after the collapse of the transitional government and the outbreak of war, because it showcased the best of Yemeni society: its great diversity, strong social cohesion, and fundamentally democratic and communal approach to decision-making. Conflict appears likely to continue in the short-term, but Yemenis and their international partners must begin planning how to translate the inclusive spirit of the NDC into stable governance.
LEADING A NEW WORLD ORDER: MEETING THE CHALLENGES TO U.S. POWER IN THE 21ST CENTURY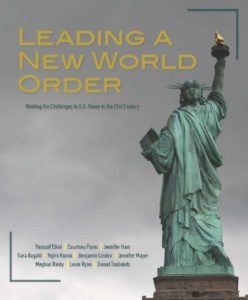 Today's world is one of threats and challenges to the United States and the liberal international order. Some of these challenges, including the increasing power of non-state actors and a rising China poised to overtake the United States, will require creativity and flexibility. On the other hand, some of the present threats are more familiar: a belligerent Russia, anti-Americanism, and instability in the Middle East. In the face of a myriad of challenges to U.S. power in a new world order, this report provides recommendations to U.S. policymakers to maintain U.S. leadership for the benefit of the United States and the world.
SUSTAINING U.S. ENGAGEMENT IN SOUTHEAST ASIA: ADVANCING AMERICAN INTERESTS UNDER A NEW FRAMEWORK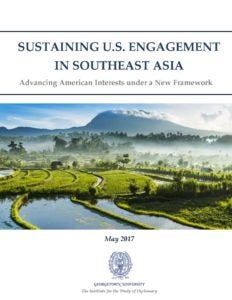 Southeast Asia is home to vital American interests—from the shipping lanes of the South China Sea to ASEAN's remarkable advancements. Properly applied, U.S. policy in the region can help strengthen governance and rule of law, sharpen economic growth, and encourage environmental sustainability.
Absent careful policy choices, however, challenges in Southeast Asia have the potential to exacerbate tensions and conflict.
This report presents an integrated strategy for sustained U.S. engagement in Southeast Asia. The strategy, termed Sustainment, builds upon the gains of the Pivot and launches new initiatives.